Hello sauer friends, I am soo excited to write this review about our latest tournament. Speaking of excitement, I think I am lying right now because I didn't really want to write it but I owe it to my friend Gangler and to a fan who asked for it. I think those two reasons are enough to give me some motivation. The reasons why I didn't want to do it is this: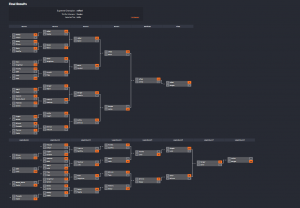 Participation was really high. The tournament lasted for 4 hours, I think, and on top of that some monsters decided to join it and make it more interesting. Starch, Achille, Raffael, Gangler,Redon, Lokio, Honzik are a few names who participated in this tournament. As you might already understand I will not be able to talk in detail about what happened because it would take forever. The hype was strong and personally I couldn't wait for the final games where the good players should face each other.
Firstly as the picture shows we have a winner bracket and a loser bracket. Everyone starts in the winner bracket and if a player lose a game then he/she has a chance to reach the final through the loser bracket. Looking some of the participant names I was happy to see Manu, headway and TheLove coming back in our beloved tournaments.
---
First round
The really good games of the first round were:
Redon vs DarkFire which was an interesting pair. Darkfire lately is famous for his amazing flag runs and Redon is the well known ffa monster. And on top of that they have good aim too but they have different style. The game was really close as expected and Redon was the one who won by 2 frags (67-65). The next game was the big surprise of the day. Friend Lokio and friend plata faced each other on a DM civil war. I think plata had the best game of his career. I know he had some practice and also I know that he has been improved a lot lately. Combining that with lokio being a bit rusty, plata took an amazing victory on turbine by 1 point. His top aim paid off and I can't wait to see more of him on the upcoming tournaments. On the loser bracket the most interesting game was that between friend zcrone and darkfire. I have seen zcrone dueling a lot in the last couple of days but here I think he was a bit unlucky as he had to face galaxy and darkfire. The lost against darkfire but both of them had a high score game which show to me that zcrone training paid off.
---
Second round
On the second round Redon had a good game against galaxy on ot. Redon for the most part, had the control of the game. He build a difference and he managed to keep in until the end. He won 80-74. Galaxy on the other side tried for a come back but I think ot it's not a good map to do it. Headway after his amazing start against tamino had to face krakovic. I had the honor to play against friend krakovic but I think his performance wasn't amazing as the last tournament. Of course he smashed me but it took him a while to get into the rhythm. But he managed to win against headway where both players has high score(103-91). Achille on his first game had an easy day against his teammate Liugam who also had a very good performance but it wasn't enough to compete. The game ended 121-103 on complex. On the lose bracket Darkfire had to face liugam and he won against him by 118-91. The last interesting game was that between lokio and lagout where both had to go through lose bracket early. A very high skill game between those two experienced players but lokio wanted it more and won by 115-92.
---
Round 3
 Things were starting to get a bit hotter on this round. First game was between Redon and Raffael on complex. Redon had an amazing game, he was ahead of Raffael at some point and it was a real threat to him. Luckily for him, he had a very good last minute where he managed to take the game by 100-92. Next we had two rusty legends fighting each other and that was Starch vs Honzik on turbine. A very risky choice because the map didn't give any major advantage to either of those players. Both of them had good moments during the game and both of them where ahead of the other but Starch like Raffael had a very good finish and manage to take the victory by 119-110. On the loser bracket the most interesting game was that between lokio and headway on complex. Another tough game for Lokio but his experience was enough to win against his opponent by 100-90.
---
Round 4
Raffael had another big threat to face and that had the name of starch on complex. The final score was 105-101 and raffael had to fight hard to take the victory. The next pair was that between Gangler and Achille. That was the first major game for Gangler and I am sure everyone wanted to see that game. The map choice was douze which favor Gangler play-style. But of course map isn't enough sometimes to give you the victory as Achille was the one who won by 110-103.
On loser bracket round 4 and 5 the toughest games where those between: shinnok-plata on ot (45-42), shinnok vs galaxy on complex (30-27) and lokio vs honzik on turbine (98-96). Shinnoks games had low score and were more strategic but lokio game was more open. If someone asked couple of months ago the winner between lokio and honzik I would probably answer honzik but this time lokio had an amazing game and managed to get the victory.
---
Semi-final/Loser bracket finals
As many could expect the semi-final pair was between achille and raffael on turbine. If you have the chance I would definitely recommend to go into notas stream and watch that game. It never stop entertain me watching those two monsters fighting on turbine. Long story short raffael won by 2 points different (112-110). On loser bracket gangler had some beautiful games against starch and achille. He played on duel7 against starch. Personally I consider duel7 a balanced insta map and gangler succeed to keep starch on his tempo and get the victory by 88-82. And on the loser bracket final he had to play against achille on complex. A more open map where it should definitely benefit achille but I was wrong for one more time. Both had amazing aim but gangler was the one who wanted it a bit more and get the game by 102-99 and go into the final. I believe he deserved to be there.
---
Final
Unfortunately final had only two games. One on ot and the other on complex. Gangler had an honest fight against Raffael. In both games Raffael had the control and the opponent was the one who was following but it was close enough to make the come back. But in both games Gangler was loosing the control of the game and end up giving Raffael another title. I believe that if you stuck into Gangler play style then you probably gonna lose and if he can't do that then he lose the control of the game. Personally I can't wait to see more of him
There are a few players who stand out in this tournament for me. First of course was plata. He has improved a lot and his victory against lokio was the highlight of the tournament. Secondly it was Redon, who is a very well known ffa player but for his insta skills. I think he had an amazing performance and I hope he will stay up there. Next is gangler, he join an insta tournament after a long time and he managed to reach the finals winning against other insta monsters. And finally raffael, coming on top amongst those players is a very good achievement.
That's it guys, I hope you enjoy the review, I hope you enjoyed the tournament and I would like to comment your experience about it or if you agreed with my opinions or not. There are some rumors for a team tournament coming up but I will try to keep you informed about it. The next SauerDuels mode will be effic! Thanks for reading this and see ya next time.
---