First place: swatllama
Second place: Master
Third place: tenshi

Demos: http://share.sauertracker.net/omts-3-ffa.zip
Streams: notas 1, notas finals, swatllama POV
Bracket: https://challonge.com/omts3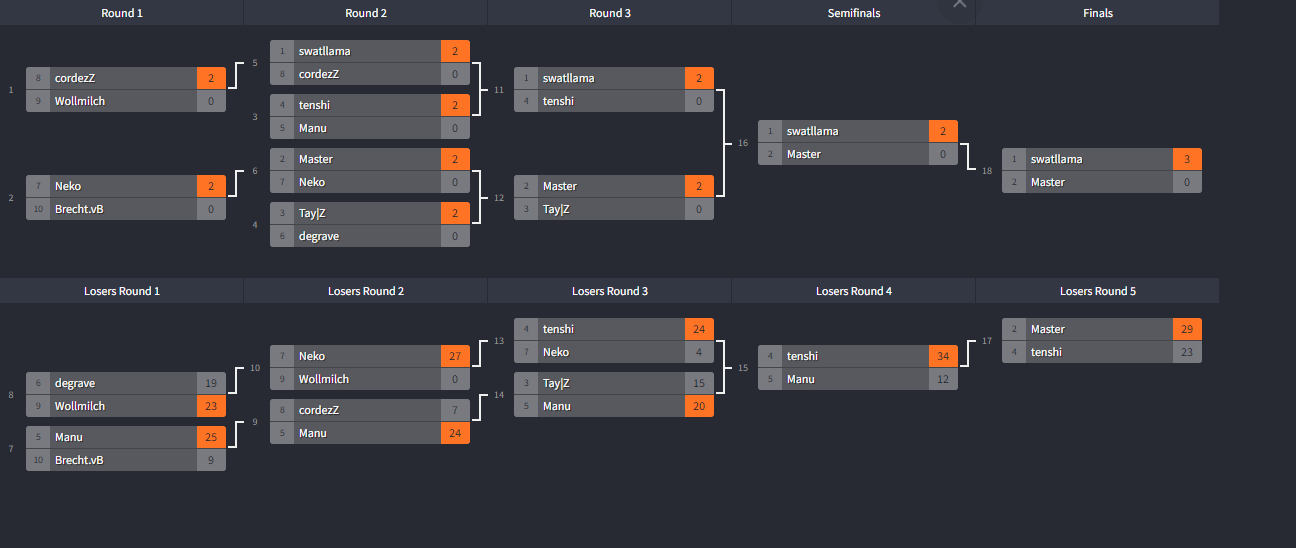 Eleisa's latest OMTS, as has become the norm, led to a great turnout with great games across the spectrum. Brecht.vb made his FFA debut, degrave came back from married life to play, and tenshi continued his bonze streak in pickup modes. Even Ojostramus tried to get in on a few games! Ojostramus, puedes unirte a la discordia, vecina, jajaja!!!!! The first few rounds of the winner and loser's brackets went as could be typically expected.
Semifinals
In the semifinals, I played vs tenshi, first on headroom, and then on hektik. We played a few practice games the day before, since the pool was largely out of both our elements, and I won headroom but lost hektik — so of course, I picked headroom and he picked hektik! I won headroom by a large margin, but tenshi's constant pressure (and the fear of always dropping to an annoying death) kept the game tense, with full control never really establishing despite the 24-8 score. Hektik was a large back and forth. Tenshi had the most amazing rockets we could imagine seeing in ffa, and almost came back from my mid-game lead, to end it 25-20.
Master played against his favourite practice partner, Tay, and picked cartel, winning by the slimmest of margins, 29-28. Tay had a very nice early quadrun and lead through the first minute and a half, but some great aim from Master put the gamestate in contested control by the next quad, and Tay's attack on there was probably from the worst possible position without completely giving up the item (he had a rifle angle on one of the exits, but completely obscured every other angle for himself). But, Master didn't end up getting any substantive benefits from the quad, and so the game was 7-7 at the third minute played. The game was largely back and forth until the end, when Master had a 1 point lead. Tay got onto quad, killed Master with 1 second remaining, and sent the game into overtime!!! Master got onto the first overtime quad, but died with it. The final moments of the game came when Tay tied up a kill at yellow, only for Master to spawn across for him, end him, and take the yellow. With 15 seconds left and a 29-28 scoreline, Master played +back to win the first map.
Then, Tay picked purgatory, thinking he'd be as great on it as he is on metl4. Apparently, that did not go so well, and a beaten, demotivated Tay|Z was relegated to the loser bracket, where Manu eliminated him in an unusual upset.
Winner Bracket Finals
I played against Master here and picked lost_world. Sort of a home turf advantage for me, considering I ported it, and it's one of my favourite quake maps. Master played surprisingly well on here, and where I thought I'd stomp him, I never felt especially comfortable. He responded by picking a map I hate (which wasn't hard for this pool): purgatory. He got on a lot of the items more consistently, but I got most of the quads, which probably let me survive this match. 
Loser Bracket Finals
Master vs Tenshi vetoed out to cartel. It wasn't the most interesting loser final, as it was clear that Master was far more familiar with how to move on here, what angles to look for, and how to attack items, leaving tenshi dazed and confused for most of the map (I really would've loved to see anubis between these two; it's a mix of the Quake style that we know Tenshi can dominate on, with the tumwalk / sauer style that Master has been so great at).
Grand Finals
Master got first pick here since I started with a 1 map advantage. He chose my most-hated, nmp8. I don't really know what either of us were doing on this map, since I do everything possible not to play it, but I had a decent lead throughout until the last 3 minutes. Master positioned very well for the next quad, and I had some classic nmp8 movement errors, so he got onto the quad, fucked me, and fucked my timing. Luckily, I managed to do enough damage to him once quad expired to mutual with him on his next quad pickup. This removed his YA stack, potential to tie it up with quad, and his overflow healthboost. Some more MG kills and a slight lead extension let me win the map I most fervently despise.
I picked Cartel, since I figured it was large and he wouldn't be able to shotgun surprise me so easily on there, and that presumption turned out to be true! I've probably had more experience on Cartel than anyone else in the pool, since it was a map we ran pretty heavily in 2015. We played some pretty standard FFA here. I won.